Welcome to The Cricket Club Restaurant & Pub
Home of Bahamian Cricket and Premier League Football
The Cricket Club is a Restaurant and Pub serving mainly
British and Bahamian food
and is well known for the array of live sports showings on its 4 HD televisions in the pub. This outstanding sports bar is located about 1/2 mile west of Downtown Nassau, The Hilton Hotel and the cruise ship harbour and the US Embassy.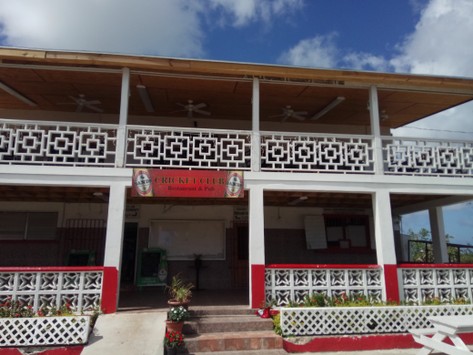 You can join the many regulars and visitors who come for English Breakfast, lunch or dinner or just for a refreshing drink. You can eat in the air-conditioned, non-smoking restaurant or on the balcony overlooking the cricket pitch and the ocean. The balmy breeze and the view of the ocean let you forget your everyday troubles. If you are in a rush, ask for take out service. The Cricket Club is open 7 days a week from early in the morning until..
The balcony is the coolest place in town. Watch cricket on week-ends or admire the ocean view. Watch cruise ships approaching the entrance to Nassau Harbour and enjoy the balmy Caribbean ocean breeze. Many regulars bring their children with them. The balcony is the right place for a family lunch on week-ends or a business lunch during the week.
Just have a look at our menu. You will find specialties like the British Breakfast, Bangers & Mash, as well as Roast Beef and Yorkshire Pudding. At the bar you will find beers like Stella Artois from Belgium, Becks, Murphy's Guinness, Boddingtons and Newcastle Brown.
And, of course, we proudly serve the truly Bahamian beer: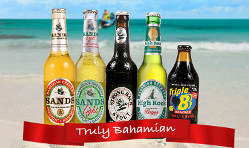 Wednesday night is darts night. Come watch our teams play!
On Sunday mornings you will find a number of Premiership Football fans watch their team on the Big Screens. During American Football Season, join the Miami Dolphin fans or watch competing teams.
Connie and Chris Robertson own and operate the place. Give them a call or email them for specific information. They can also take your reservation or organize special events at the Club, such as parties or club meetings.
Check out our House Beer's Theme song and dance below: